Highly Specialist Speech & Language Therapist in Head and Neck Oncology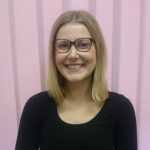 Qualifications:
BSc (Hons) Speech and Language Therapy, Birmingham City University
Reg HCPC
As part of her specialist role, Faye supports individuals with their swallowing and communication throughout head and neck cancer treatment and during their rehabilitation. She also spends time in a busy acute environment assisting a range of inpatients with their swallowing and communication. She is passionate about working with patients who have a laryngectomy and supporting them to find new ways of communicating more effectively after surgery.