Advanced Nurse Practitioner in ENT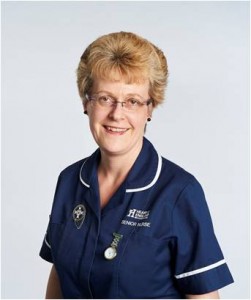 Qualifications:
Non-Medical Prescribing  2004
Specialist Practitioner – Adult Nursing 1997
MSc Advanced Practice –Birmingham University 1996
RGN 1986
Post –Registration Training:
Kathryn has worked at Heartlands Hospital for 25 years and within ENT for 22 years, concentrating on developing the role of the Advanced Practitioner since 1996.
Her special interests include measuring the quality of life for patients following treatment for head and neck cancer and using this information to inform support for patients.
Kathryn works to promote collaborative working, across sites and professions, to support patients to better adapt to life after cancer treatment. Kathryn supports the on-treatment radiotherapy clinic at University Hospital Birmingham. Kathryn also responds to laryngectomy patients' needs with the provision of a service to assess and change their voice prosthesis as required.
Support and advice are also provided for patients with a tracheostomy whilst in-patients and within the community working closely with the hospital and community multi-professional team. Kathryn is currently a member of the trust team reviewing the provision of tracheostomy care across the trust.
Kathryn has also developed and run a nurse-led thyroid cancer telephone follow-up clinic, negating the need for well patients to attend multiple out-patient appointments.
Kathryn also has a special interest in providing appropriate care for patients with chronic ear disease and holds independent clinics both at Solihull and Heartlands Hospital.
To contact Kathryn, please call 0121 424 1559.