Specialist Speech & Language Therapist in Head and Neck Oncology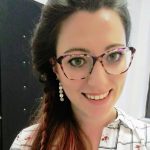 Qualifications:           
FdSc Speech, Language and Communication Science, University of Portsmouth
BSc (Hons) Human Physiology, University of Portsmouth
MSc Speech and Language Therapy, University of Essex
Reg HCPC
Member of RCSLT
As part of her role supporting individuals with Head and Neck Cancer, Marina works with those with swallowing and communication needs. These individuals tend to be undergoing treatment including surgery, Radiotherapy and/or Chemotherapy and may be seen as outpatients or inpatients. Marina's role consists of supporting those requiring both rehabilitative and palliative care. Marina has a special interest in rehabilitation of patients post Head and Neck surgery, with a concentration on Dysphagia.