MBBS, MSc, MPH, DLORCS, FRCS, FRCS (ORL-HNS)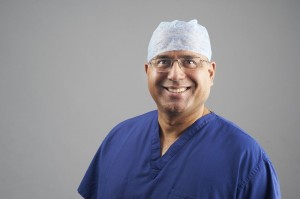 I joined Heart of England NHS Teaching Trust as a Consultant ENT Surgeon in 2010. I cover Heartlands and Good Hope Hospitals routinely and Solihull Hospital, occasionally. My main sub-speciality practice is in Surgical Otology (paediatric & adult), Audio-vestibular Medicine and Rhinology. I am the Lead Consultant for Paediatric Otology and Audio-vestibular Medicine running Specialist Paediatric Otology Clinics (SPOC) in the Hearing Centre. I also practise in general paediatric ENT. I take a keen interest in the education and training of medical students, doctors and international fellows. I am involved in organising post-graduate courses and international surgical charity work. Previously, I have been a Clinical Governance lead for three years.
As a Clinical Research Fellow at Manchester University, my main research interests were Genetics of Autosomal Recessive Hearing Impairment and Hearing Impairment in Diabetes Mellitus. In addition to Masters of Science (MSc) degree in Audiological Medicine from Manchester University, I have gained Masters of Public Health (MPH) degree from Nottingham University with a thesis on Prevention of Deafness and Hearing Impairment in Developing Countries.
I completed my Basic Surgical Training in various English and European hospitals, completing Diploma in Laryngology and Otology (DLO) and Fellowship from Royal College of Surgeons (FRCS). Subsequently, I joined Higher Surgical Training (HST) Programme in Otolaryngology, Head and Neck Surgery in Merseyside Deanery, Liverpool. I passed my exit exams, obtaining a Fellowship from Royal College of Surgeons (FRCS-ORLHNS). I completed my HST with a Certificate of Completion of Speciality Training (CCST) in Otolaryngology – Head and Neck Surgery.
Contact
Secretary (Heartlands Teaching Hospital)
Tel: 0121 424 3350
Email: carol.connerley@heartofengland.nhs.uk
Secretary (Heartlands Hearing & Balance Centre)
Tel: 0121 424 1847
Email: denise.martin@heartofengland.nhs.uk
Secretary (GHH)
Tel: 0121 424 9728
Email: linda.atkins@heartofengland.nhs.uk
Secretary ( Paediatric Otology and Audiology Multidisciplinary Seminars)
Tel: 0121 424 2351
Email: laura.payne@heartofengland.nhs.uk